Your Local Plumbing Company in Johnston, IA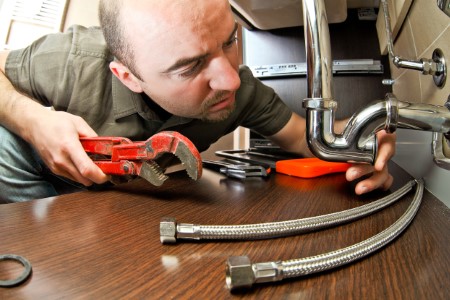 Is your Johnston area home suffering from plumbing issues? Then you need to call the experienced plumbers at Priority Plumbing Company today. We offer a variety of top-rated services that will resolve any issues with your home's plumbing setup quickly and effectively. So, you can count on us for any such issues you might be dealing with.
In fact, you can count on us to provide that work at all times of the day and night. Why is that? Simple: We offer 24-hour emergency plumbing repair services. We understand that plumbing issues can occur even in the middle of the night, potentially leaving your family without running water, so we proudly offer this service to offer the best peace of mind to our friends and neighbors.
You can even count on our experienced plumbing professionals to handle your water heater needs. Whether your Johnston home runs on a traditional or a tankless model, you don't have to fret. We have the know-how and the resources to fix any and all water heater types. Give us a call today, and we'll knock out any and all of your plumbing woes in no time.
Plumbing Repairs for Your Johnston Home
Of all the components that keep your Johnston home running, your plumbing setup gets some of the most constant use. After all, you need this setup to bathe, to clean, to cook, and to handle a variety of other necessary chores. In time, though, this heavy use can leave your plumbing worn and perhaps even damaged, rendering you unable to use it to the fullest -- or even at all.
If your plumbing is experiencing issues that render you incapable of using it, don't hesitate to give us a call. With our top-rated plumbing repairs, we'll get that setup working like brand new once more no matter the cause or the extent of the wear or damage that it suffered. Call us today for the quickest, most dependable repairs you'll find in the area.
24-Hour Emergency Plumbing Repairs in Johnston
Nothing ruins your evening quite like being blindsided by sudden plumbing issues. Out of nowhere, your evening could be put to a screeching halt since you may be unable to bathe, wash the dishes, or perform any of your other running-water-dependent rituals. So, you may find yourself unable to enjoy your at-home time until the next day at the earliest when you could call a plumber to resolve those issues.
Well, that is unless you call Priority Plumbing Company for our 24-hour emergency services. No matter what time of the day or night you might experience issues with your plumbing, you can depend on our Johnston plumbing experts to get there in little time and get your night back on track with a quick and accurate repair.
Your Johnston Water Heater Experts
Your water heater is necessary for maintaining comfort as you bathe and wash and handle all of your other water-dependent chores every day, so you'll find it necessary to maintain your water heater as best you can. Fortunately, doing that is as easy as calling Priority Plumbing Company. We offer top-notch water heater repairs and replacements.
We also offer the same quality services for tankless water heaters, meaning you can depend on us to handle your water heater needs, no matter what kind of water heater you use. If you don't have a tankless unit but would like one, give us a call. We can retrofit one into your Johnston home so that you can enjoy the money-saving benefits this water heater option offers.