The Plumbing Company in Urbandale That You Can Trust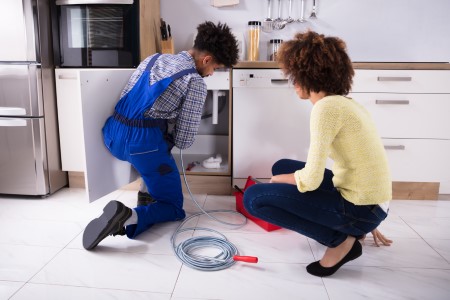 Whether you need your Urbandale home's plumbing repaired or simply tuned up, you can depend on Priority Plumbing Company to get it in the best possible condition. Our top-notch plumbing professionals have the experience to deliver the results you need and the dedication to promise nothing but the highest-quality work in all we do.
What does "all we do" include? The simple answer is any work that you need to get your plumbing working again. This, of course, includes plumbing repairs, including 24-hour emergency services. Since your plumbing will inevitably experience wear and tear that could render it unusable, you'll be happy to have access to our quality repair services down the road.
We also offer water heater services for both traditional and tankless models. You would be unable to get your cleaning and bathing handled without a properly working water heater, but you don't have to worry about that as long as you call for our repair and maintenance services. We make it our mission to provide quick yet high-quality work in all we do.
Quality Plumbing Repair in Urbandale
After being used every single day for a variety of reasons, your plumbing setup is bound to suffer from wear and damages. These damages can leave you without running water or working fixtures, so you'll want to have them fixed as soon as possible. For the quickest yet most accurate plumbing repairs in Urbandale, you need to give us a call.
Our expert team has the know-how to quickly and accurately assess the cause of your plumbing issues and then formulate the best and lowest-cost fix for it. So, by leaving these problems in our dependable hands, you can be sure that you'll be able to get back to using your plumbing to handle your bathing and cleaning needs.
24-Hour Emergency Plumbing Services for Your Urbandale Home
The frustrating thing about plumbing issues is that they can strike any time of the day or night. Since many plumbing companies stop operating in the evening, late-night breakages can prove to be a major headache, as you could find yourself dealing with a major leak or a lack of running water until sometime the next day at the earliest.
Fortunately, we can take the frustration out of your late-night plumbing problems thanks to our 24-hour repair services. At Priority Plumbing Company, we understand that issues can strike at all hours, so we proudly offer this service as a way to offer peace of mind to all homeowners and business owners within Urbandale. Don't hesitate to call us for our quality repairs at any time of the day or night.
Call Us for All Your Water Heater Needs
Your water heater is one of the most important installations within your home, meaning it is also one of the installations that you will use more than just about any other. Of course, this regular use does have its drawbacks, which are the wear and tear that your water heater will endure. Over time, unfortunately, this wear and tear can leave you with a non-working water heater.
Fortunately, though, you can always call our dependable plumbing experts for all your water heater needs. Whether those needs are for repairs, tune-ups, or even full-blown replacements, we have the skills and resources to meet them. We are also experts at handling your tankless water heater needs, so you can rely on us no matter what heating unit you use.