The Plumbing Company in Waukee That You Can Trust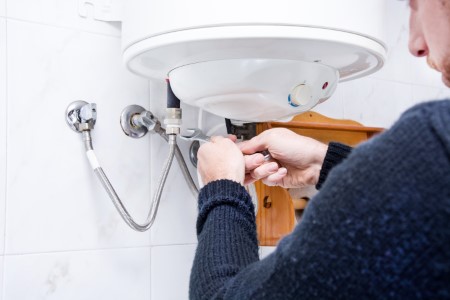 If you're in the market for a dependable plumber in the Waukee area, then you need to look no further than Priority Plumbing Company. We boast an experienced team that is dedicated to meeting all of your plumbing needs in the quickest and highest-quality manner we can. So, you need to look to us before anyone else when plumbing issues strike.
After all, we can resolve these issues thanks to our quality plumbing repair services. Our dependable staff will quickly assess the cause of your issues and then decide on a quick and effective fix that will get your plumbing working again in no time. We even offer this service at all hours thanks to our 24-hour emergency services.
On top of that, we even offer water heater services. Whether you're looking to get your water heater checked out, repaired, or even replaced, you can count on our plumbing experts to get the work handled efficiently and effectively. Give us a call today if you're in need of any plumbing services for your Waukee home.
Your Waukee Pluming Repair Experts
Your plumbing is up there with your electrical setup in terms of usefulness. You can't help but use your plumbing every single day for a variety of reasons: to bathe, to cook, to clean, etc. Of course, this usefulness can lead to wear and tear over time. Should this wear and tear progress enough, you might find yourself without the use of this necessary component.
If your plumbing has worn down to this point, don't waste another minute: Give us a call today for a plumbing repair. We will locate and repair the cause of your issues, allowing your Waukee home to enjoy properly working plumbing once more. No problem is too big or daunting for our team of pros, so don't hesitate to call us for your plumbing issues.
Call Us for Our 24-Hour Emergency Services
The problem with plumbing issues is that they don't work on a set schedule. This means they can occur at any time of the day or night, and should they happen to occur in the middle of the night, you might find yourself up a creek without a paddle. After all, you wouldn't be able to handle your nightly cleaning and bathing without properly working plumbing.
Fortunately for you, you don't have to wait until the start of business hours the next morning to get the ball rolling on your repairs. Instead, you can call our Waukee plumbers for our 24-hour emergency services. We'll get your plumbing issues resolved no matter what time they may occur, so with us, you'll never find yourself up a creek in the middle of the night.
Quality Water Heater Services in Waukee
A water heater is one of those installations that you can't help but use every single day for a variety of reasons. From bathing to cleaning to washing dishes, your water heater does it all to help you keep your home and self sanitary in the most comfortable manner possible. Unfortunately, this usefulness can lead to wear and tear over time.
Should this wear and tear lead to water heater problems, you need to give us a call. With our water heater services, we'll get this necessary installation working like brand new once more. Whether you need a repair or replacement, you can depend on our Waukee plumbing pros to provide the work you need to get back to enjoying your water heater.