The Clive Leader in Plumbing Repairs & Installation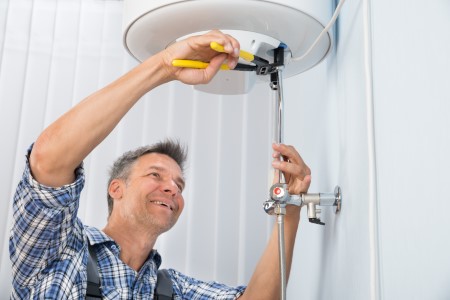 When your home in the Clive area experiences issues with its plumbing setup, you could find yourself unable to handle some of your basic chores: bathing, washing dishes, etc. Fortunately, should you find yourself in this predicament, you can always call the area's dependable plumbers at Priority Plumbing Company.
Our plumbing professionals have many years of experience in the industry, and they are all dedicated to providing the best and most accurate service for you. One such service we offer is, of course, plumbing repairs. You'll use your plumbing every day for many reasons, meaning wear and damages are inevitable, so you'll certainly find yourself needing this service down the road.
What's even better is that you don't have to wait to call for our top-rated repairs thanks to our 24-hour emergency plumbing repair services. At Priority Plumbing Company, we understand that plumbing issues can strike at any time of the day or night, so we're happy to offer this service to help you enjoy dependable plumbing no matter when problems occur.
Quality Plumbing Repairs for Your Clive Home
Your plumbing setup doesn't get a single day off. Every day, you need to use it to varying degrees for a variety of reasons: to shower, to wash your dishes, to water the plants, to cook, to clean . . . The list goes on. And on. And on, eventually leading to wear and damages that can leave you without properly working plumbing.
If you find yourself dealing with the after-effects of using your plumbing every single day, don't lose heart. Instead, find the phone and get ahold of our dependable team today. With our quality plumbing repairs, we'll get whatever problem you're faced with knocked out in no time, allowing you to get back to your daily routines once more.
Your Clive Emergency Plumbing Experts
Plumbing issues don't work on a 9-to-5 schedule. Unfortunately, many plumbing companies DO work on that kind of schedule. So, you might find yourself without working plumbing fixtures in the middle of the night, and you might feel that your only option is to wait till the next day before you can get the ball rolling on any repairs.
That is unless you call our dependable plumbing company. We offer 24-hour emergency repair services, so we can address your plumbing problems no matter what time of the day or night they happen. Going so much as a night without running water can be a frustrating and unhygienic situation, and you can avoid that headache thanks to our 24-hour services.
Water Heater Services That You Can Depend On
Your water heater is one of the most important installations in your Clive home, so you need to take steps to keep it working its best. To manage that, simply call Priority Plumbing Company for our water heater repair and maintenance services. We have the resources and the know-how to provide the best service for your water heater so it runs its best through the years.
On top of providing these services for your Clive home's traditional water heater, we provide the same work for tankless water heaters. If your home doesn't have a tankless water heater but you're interested in getting one installed, then you can still rely on us. We can get your home outfitted with a new tankless water heater in no time so you can get to enjoying this installation's convenient and money-saving benefits today.