Drain Cleaning In Des Moines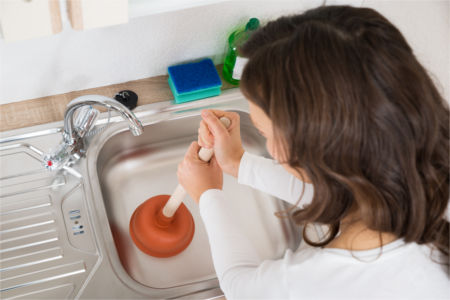 Is your kitchen or bathroom in desperate need of a professional drain cleaning? Then you need to give our Des Moines plumbers a call today. We offer quality professional drain cleaning services that will get your sinks draining dependably once more in little time, helping you to avoid the problems that can come with a backup.
That's right: A backup is not strictly a problem in and of itself. Rather, it can lead to some other bothersome issues such as the presence of foul odors in your Des Moines home and the inability to use your sinks. So, when your sinks begin draining slowly or not at all, don't hesitate to call our dependable plumbing company today.
Our professional draining cleaning services will ensure that your Des Moines home's sinks work as they should once more no matter the cause or even magnitude of the blockage. Tired of dealing with the odors and inconvenience that accompany a backed-up sink? Then call Priority Plumbing Company today!
Know the Signs That Tell You You Need a Drain Cleaning
You don't want to delay getting your drain cleaning. After all, waiting could only cause the blockage to worsen, and in time, you may find yourself having to deal with a much larger problem that can take much more time and money to address. Instead, you need to call your plumber as soon as you know you need a cleaning. How do you know that? Simple: by knowing what signs to look for. These signs include the following:
Foul odors in your home
Slowly draining sinks
Backed-up water in your sink
Thorough Drain Cleaning from Our Plumbing Professionals
Once you notice that you need to get a drain cleaning, don't hesitate to call our Des Moines plumbers today. We not only provide the work you need, but we also provide the highest-quality work that you are likely to find in the area. Our team has the experience and the dedication to quality to promise you nothing but the highest-quality drain services.
Don't resign yourself to living with the headache that a clogged drain can be -- much less the issues that one can lead to. Instead, call Priority Plumbing Company for a quality professional drain cleaning that will get things moving once more, helping your home to function that much better and preventing the other issues that can occur because of a drain clog.