Sump Pumps In Des Moines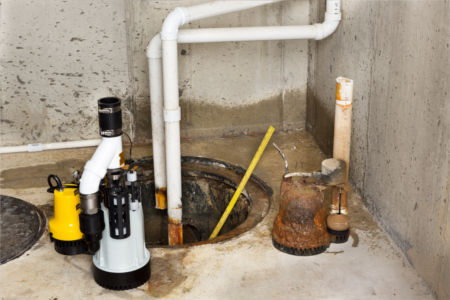 To ensure that your Des Moines basement stays protected from flooding, you need to keep a sump pump installed in it. Of course, your sump pump would be useless in the fight against flooding if it were to experience issues that prevent it from functioning its best. If that's the case with yours, you need to call the experienced plumbers in Des Moines at Priority Plumbing Company.
Whether you need your current sump pump repaired or a new one to be put in, you can count on our plumbing company to provide the work you need when you need it. You'll certainly be happy to have access to our services since your sump pump helps to prevent the issues that flooding can cause: foundational breakages, mold development, and wood rot.
It's imperative to keep your Des Moines home as protected as can be, and some of the best protection you'll enjoy comes courtesy of your sump pump. So, you'll be happy to have access to our dependable team when that installation experiences wear and other issues that render it unusable. We'll get it up and running so you and yours can remain protected from the dangers listed above.
Keep Your Home Safe from Flooding Damage
When heavy rains begin to fall, you can experience more than just a headache as you make a mad dash from your home to your car. You could also experience significant home damages should these rainwater make their way into your basement. In little time, your Des Moines home's basement could be turned into your own personal swimming hole -- which could cause significant destruction:
Breaks in your foundation
Rot to your wooden supports
Development of mold growth
Musty odors
Fortunately, you can avoid these issues by preventing that destructive swimming hole from forming. To do that, you simply need to keep a dependable sump pump in your basement. If your current sump pump is significantly less than dependable, you need to give us a call. We provide the services this installation needs to continue working its best.
Quality Sump Pump Repairs from Our Des Moines Plumbers
After a particularly heavy flood, your sump pump may be understandably exhausted. In fact, it may be a bit more than just exhausted: It may be worn out to the point that it can't function anymore. This will prove to be a problem the next time your Des Moines basement experiences a flood, as it would have no defense against the water and the damage it can cause.
If you're dealing with an exhausted and unusable sump pump, you don't need to lose heart. Instead, you need to find the phone and call Priority Plumbing Company today. Whether the fix you need is a repair or a replacement, you can depend on us to provide the work needed to equip your Des Moines home with a dependable new sump pump in no time.