Water Heater Installation In Des Moines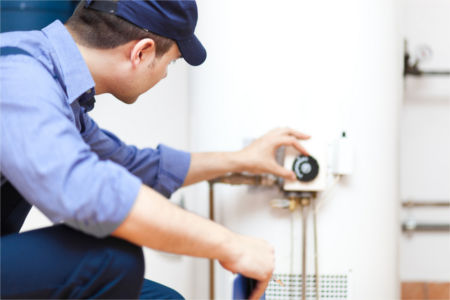 Your water heater is one of the most necessary installations within your home, so when you experience issues that require you get a new one, you need to give our plumbers in Des Moines a call. With our water heater installation services, we'll get your home outfitted with a dependable new water heater, even a tankless unit, that will provide the hot water you need.
After all, you can't effectively (or comfortably) bathe, wash dishes, or do laundry without hot water. With a high-quality new water heater, you'll be able to use all the hot water you need to keep yourself and your home clean. To continue using this hot water for as long as possible, you need to get a high-quality water heating unit installed correctly by knowledgeable experts.
For the highest-quality water heater installation for your Des Moines home or business, don't hesitate to call Priority Plumbing Company. We strive to provide quick yet thorough installation services so that you can enjoy hot water both now and for many years from now. Call us today when you need a new water heater installed in your home or business.
Residential and Commercial Water Heater Installations
Whether you own a home or a business, you'll need to maintain a dependable water heater. After all, it's necessary to keep your work and living area clean and hygienic, but you can't do that if you don't have hot water available. Unfortunately, that's the exact situation you could find yourself dealing with if your water heater conks out on you.
When you find yourself without the use of your home or business' water heater, you need to give Priority Plumbing Company a call. We have the licensing to be able to provide water heater installations for both residential and commercial properties, so no matter what kind of property you own, you can depend on us to help you enjoy hot water.
Get Your Old Water Heater Replaced
You'll use your water heater every day for a variety of reasons -- reasons which encompass personal hygiene and house cleaning. Because you'll handle these chores many times throughout the day, you can expect to put significant wear on your water heater. Over time, this wear (combined with general aging) can render your water heater unusable.
If your water heater is unusable, you need to give our plumbing professionals a call. With our new water heater installation services, we can outfit your home or business with a quality new water heater, helping you to continue handling your cleaning for many more years to come. Call us today if your current heating unit needs to go.